With the inaugural WPL auction signifying a huge leap in the progression of Women's cricket, we were fascinated to see how it played out.
We were delighted to be able to support RCB in some capacity with their draft strategy. It was a great way to use our data to see where value could be picked up across the 400+ players who were involved in the Auction.
We found it fascinating to see the different strategies franchises used to compile a squad together and who did or didn't get picked. The biggest surprise we felt was that Alana King didn't attract any bidders across the auction. She comes out as one of the best bowlers in our Added Value Ratings, and being a leg spinner with international experience, we thought she would be nailed on at quite a high price. It will be interesting to see if she gets drafted as a replacement should anyone pull out for any reason.
After the Auction concluded we thought it would be an interesting process to assess where value had or hadn't been found. We plotted our Added Value Ratings x Auction Price for players who have faced or bowled more than 100 balls in the last 3 years in major competitions.
With the depth of batting around the world at the moment, there is no surprise to see that most of players picked up have a positive AVR, and certainly vindicated Gujarat Giants' decision to spend big on Beth Mooney. RCB also look to have compiled a very strong batting unit with 5 of the top 9 players in terms of AVR, it will be interesting to see if those are the 4 overseas they play.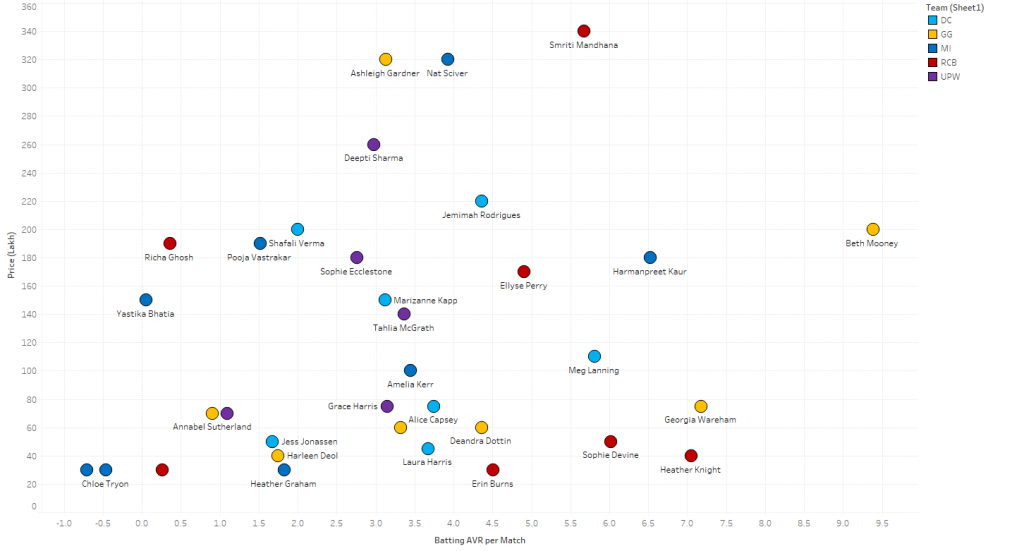 The bowling ratings are far more mixed which in some way backs up why the batters were so strong. A few 'batting' all-rounders fetched big money, but haven't performed with the ball recently. Their usage will be intriguing. Tara Norris, in particular, looks a very shrewd pick from Delhi, especially given the fact as an associate player they can play 4 overseas as well as her.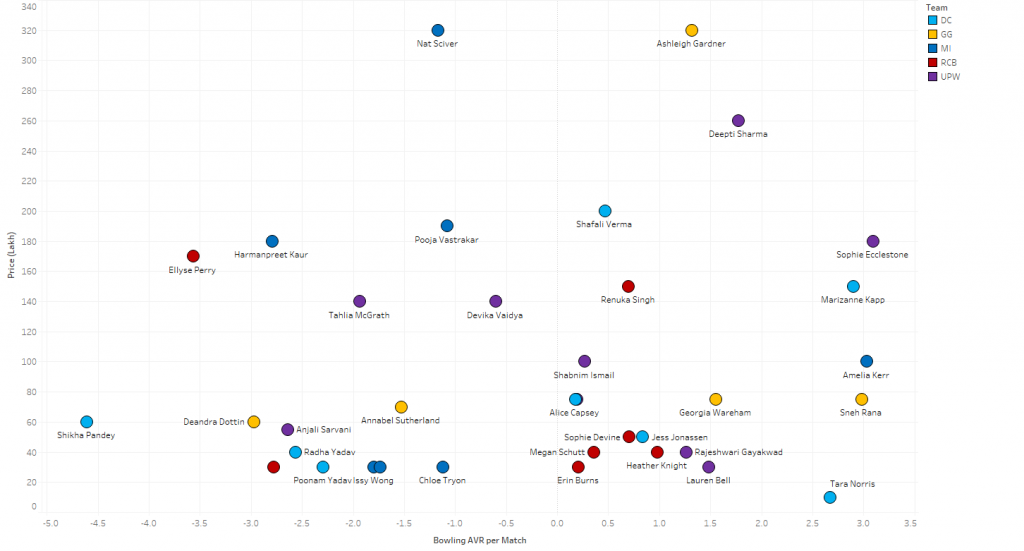 An exciting competition awaits, we are looking forward to it kicking off!